As a firm we work hard to ensure that we provide the highest standard of service to you.  The accreditations and memberships below recognise the quality and standard of our work.
Accredited members of the Law Society Clinical Negligence Scheme are: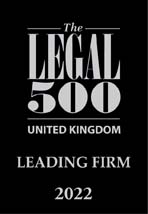 Price Slater Gawne's Clinical Negligence team have been ranked as a Tier 3 firm in the Legal 500 category of Claimant Clinical Negligence firms in the North West.
During the Legal 500 accreditation process, the following feedback was provided by clients, counsel and experts in relation to the Clinical Negligence knowledge and expertise of the Price Slater Gawne team:
'I have felt very supported by Price Slater Gawne. They have treated the claim with sensitivity and compassion. They are very experienced and responsive, and have enabled us to feel confident in a positive outcome from the very start of the process.'
'The team is very experienced in clinical negligence litigation with a level of expertise that compares very favourably with large London firms.'
'Rosamund Rhodes-Kemp is an outstanding clinical negligence solicitor who specialises in complex birth injury claims on behalf of claimants.'
Accredited members of the Law Society Family Law Scheme are:
Nicholas Clough
Ainsley Pritchard
Resolution's 6,500 members are family lawyers and other professionals committed to the constructive resolution of family disputes. Their members follow a Code of Practice that promotes a non-confrontational approach to family problems. Their members encourage solutions that consider the needs of the whole family – and in particular the best interests of children.
The following are members of Resolution
Jackie Rawcliffe
Ainsley Pritchard
Nicholas Clough
Resolution collaborative family law
In the collaborative process each person appoints their own lawyer but instead of conducting negotiations between each party by letter or phone, the separating couple and their lawyers all meet together to work things out face-to-face. A collaboratively trained lawyer will be by their client's side throughout the entire process and therefore individuals will benefit from legal advice. All collaborative lawyers must be specially trained by Resolution, and have signed up to the Resolution Code of Practice committing them to resolve family disputes in a non-confrontational way.  The following are trained in collaborative law by Resolution
Resolution Mediator
A mediator is an independent, neutral third party – who can help you both talk things through and reach agreement. The meetings usually last for an hour and a half and the number of sessions you will need will depend on the issues you need to sort out. The mediator remains impartial and doesn't give advice on your individual position to either of you – so Resolution mediators will always recommend that you each obtain legal advice alongside the mediation process.
The following is an accredited mediator
We are members of the Association of Child Abuse Lawyers, an association set up for the benefit of victims, lawyers, experts and other professionals involved in the field of obtaining compensation for the physical, sexual or emotional abuse of children and adults abused in childhood.
You can find out more about what they do from their website www.childabuselawyers.com
If you are a survivor of child abuse, please contact Victoria Price, who specialises in this type of claim.
Price Slater Gawne's Court of Protection team have been listed as a Tier 3 firm in the Legal 500 category of leading Personal Tax, Trusts and Probate firms in the North West.
The feedback received by the Legal 500 team during the accreditation process from clients, counsel and specialist partners in this field demonstrated the firm's expertise, experience and approach to Court of Protection matters.
"This team really try to understand the situation from the client's perspective and take the time to find out what is needed and why without preconconceptions. They are truly flexible and client centred in a way that puts them ahead of the competition.'
'Changing my mother's deputy over to Price Slater Gawne was not a decision I took lightly, but rather one that I gave significant time, thought and consideration. After changing deputy to them, my only regret is that I didn't do it sooner. My initial research into deputyship provided a raft of results but having come across an article on changing deputy by Tom Young, I was provided with the answers to many of my questions all in one place. I truly believe that anyone can have a job, but blessed are those that work not only for themselves but also to help others. I found that the Price Slater Gawne team truly want to help their clients.'
'The Court of Protection team is going from strength to strength and has grown considerably even in the challenging climate of 2020. The team are approachable and knowledgeable about their area with client care at the centre of what they do.'
Cyber Essentials aims to help organisations implement basic levels of protection against cyber attack, demonstrating to our clients that we take cyber security seriously.  It is an independently verified self assessment of 5 basic security controls,  A qualified assessor verifies the information provided and confirms it reaches the standard required.
The five basic controls within Cyber Essentials were chosen because, when properly implemented, they will help to protect against unskilled internet-based attackers using commodity capabilities – which are freely available on the internet.
For further information on Cyber Essentials, please visit www.cyberstreetwise.com/cyberessentials
The Lexcel quality mark is awarded to law firms that demonstrate the highest standards of practice management, compliance and client care.
During the reaccreditation process the assessors noted that Price Slater Gawne not only continues to maintain an excellent Lexcel standard but also demonstrates the firm's sustained commitment to providing clients with an outstanding level of service.
Since being established in 2010, the company has operated a paperless model. All files are accessed via a case management system which ensures that client data is stored and managed in a secure manner, therefore ensuring data protection and client confidentiality. The paperless model also facilitates the company's ethos of flexible working hours for its employees and clients alike.
Employee work-life balance is of great importance to the management team at Price Slater Gawne and its Lexcel assessor noted that as a result "people feel valued and appreciated and looked after by the firm". – Homeworking forms part of the company's usual operations and works "seamlessly", with regular communication in place to support team members and ensure support is provided where required.